SPECIAL SUPPORT UNIT MEMBERS SUCCESSFULLY COMPLETED SCUBA DIVING TRAINING
The Sixth Generation of SIPA Cadets Promoted In Mostar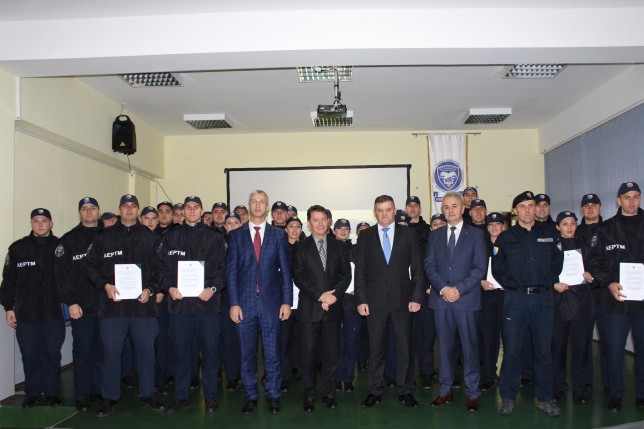 15/11/2017 – In the Agency for Education and Professional Training (AEPTM) in Mostar, a promotion ceremony was held today for 25 cadets of the State Investigation and Protection Agency (SIPA) and five cadets of the Directorate for Coordination of Police Bodies of B&H, who were awarded a junior inspector rank.
This is the sixth generation of SIPA cadets, who underwent a rigorous selection within the competition procedure for admission of SIPA cadets. During the four-month training, the cadets have attended the basic police training for awarding a junior inspector rank. The training consisted of two phases. The first phase implied theoretical instruction with practical exercises, while the second phase consisted of situational and field training and taking the final exam. In the upcoming period, the cadets will sign the employment contract and take a solemn oath, and thus officially take up employement in SIPA.
Perica Stanić, Director of SIPA, congratulated the cadets on their successful completion of the basic police training and wished them luck and success in their future work. The cadets also received congratulations form Branko Vukoja, Director of AEPTM, Mirsad Vilić, Director of Directorate for Coordination of Police Bodies of BiH and Mijo Krešić, Deputy Minister of Security of B&H. While addressing the audience, they emphasized that the cadets have chosen an honorable and responisible profession, which demands "warm heart, cold head and clean hands." They also emphasized the need of a lifelong education and professional development as a prerequisite for a successful combat against all types of crime, with the aim of efficiency enhancement and the effectivity of police agencies' work.
During the ceremony, the participants of the specialist SCUBA diving trainings were awarded certificates. In cooperation with the sport-ecological association "Hercegovina", AEPTM conducted two trainings in SCUBA diving, first of them being the "Open water diver" training, sucessfully completed by four members of SIPA Special Support Unit.