SIPA reinforced with 25 junior inspectors
Sixth Generation of SIPA Cadets Sworn In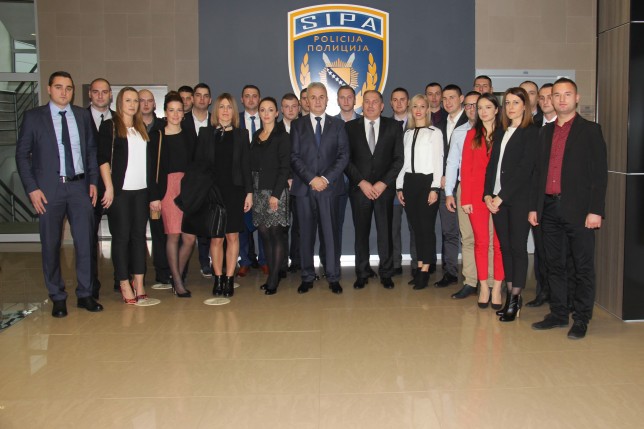 30/11/2017 – In the official premises of the State Investigation and Protection Agency (hereinafter: SIPA) in East Sarajevo, 25 cadets took a solemn oath before the B&H Minister of Security, Dragan Mektić, which marked their official beginning of work in SIPA in the rank of junior inspector.
After a rigorous selection within the competition procedure for the admission of SIPA cadets, 25 trainees attended and successfully completed a four-month basic police training for awarding a junior inspector rank, conducted by the Agency for Education and Professional Training in Mostar. The admission of seven women shows that a number of women police officials has insreased in accordance with relevant regulations in the field of gender equality in B&H, indicating that SIPA remains the leading police agency concerning the representation of women police officials.
B&H Minister of Security, Dragan Mektić told the cadets that they should be proud of becoming the part of SIPA, which has grown into a leading police agency with a respectable reputation due to its work and the achieved results. He emphasized that because of the citizens' confidence in SIPA, the cadets will face great challenges and high expectations. "Be consistent in applying the law, courageous in fight against the crime and in carrying out police work. In your future work there cannot and mustn't be untouchables." said Mektić.
In his address to the cadets, SIPA Director Perica Stanić said that SIPA proudly promotes the sixth generation of cadets today, that they are expected to be dedicated to police work and to act professionally, honestly and honorably. He recalled that SIPA has wide powers and that the most complex crimes are under its jurisdiction, thus he expects the cadets to give their maximum in order to contribute to the overall results and success of SIPA.
The ceremony was attended by SIPA Deputy Director, heads of basic organizational units and directors of the Directorate for Coordination of Police Bodies of B&H, the Agency for Education and Professional Training and the Police Support Agency of B&H, the Head of Staff and B&H Border Police Deputy Director.
Additionally, the recognition award ceremony took place in the premises of SIPA today. Minister of Security of B&H handed a recognition - golden police badge to six officials of SIPA, for special efforts and achievements in the previous period.